PoE Injectors Provide New Power Options for Connected Equipment
DITEK's PoE Injectors let you connect IEEE 802.3af/at-compliant products to non-PoE LAN switch ports. Models available for 30W and 60W applications.
PoE Injectors :
DTK-INJ60
60 Watt Gigabit Ultra PoE+ Injector
DITEK's Gigabit High-Power PoE+ Injector provides up to 60 W using all four pairs of twisted-pair Cat5 or Cat6 cabling to support IoT applications. Ultra PoE standard is an excellent solution for bringing power to your important, critical systems. Applications include sensors and building automation, wireless access points, nurse call systems and point of sale devices.
Uses existing network cables
Power output up to 60 watts Over a four-pair CAT5e or CAT6 network cable
10/100/1000 Mbps data rates
Supports distances up to 100 m (328 ft)
Fan-less design ideal for silent operation
ADDITIONAL MODELS IN THIS SERIES: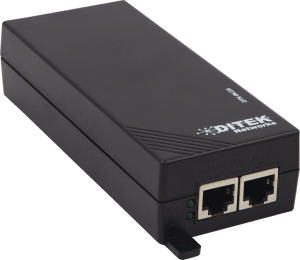 DTK-INJ30
30 Watt Gigabit PoE+ Injector
DITEK's Gigabit High-Power PoE+ Injector lets you connect your IEEE 802.3af/at-compliant product to a non-PoE LAN switch port. The PoE Injector can power and supply a network connection to a wireless access point, IP phone, network camera or any IEEE 802.3af/at-powered PD.
Uses existing network cables
Power output up to 30 watts over a four-pair CAT5e or CAT6 network cable
10/100/1000 Mbps data rates
Supports distances up to 100 m (328 ft)
Fan-less design ideal for silent operation
Dual-color LEDs for power and data
×
360° Product View